Portage County USBC files from 2016-17
Champion of Champions results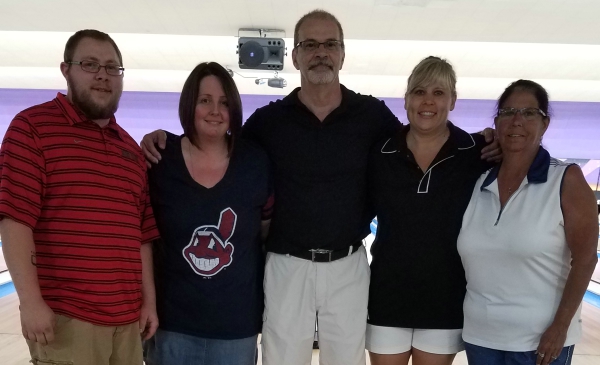 The winning team from the Champion of Champions Tournament was I Got Mine/Pro Shop Guys from Kent Lanes. The five bowlers are Josh Wilson (256,706), Heather Schueller (622), Eric Hughey (247, 690), Angela Hughey (255, 682), and Pamela Barnes (459) For a handicap total of 3715 to win by just seven pins. The winners will each receive a jacket and a trophy.
Below is a complete list of teams in the tournament: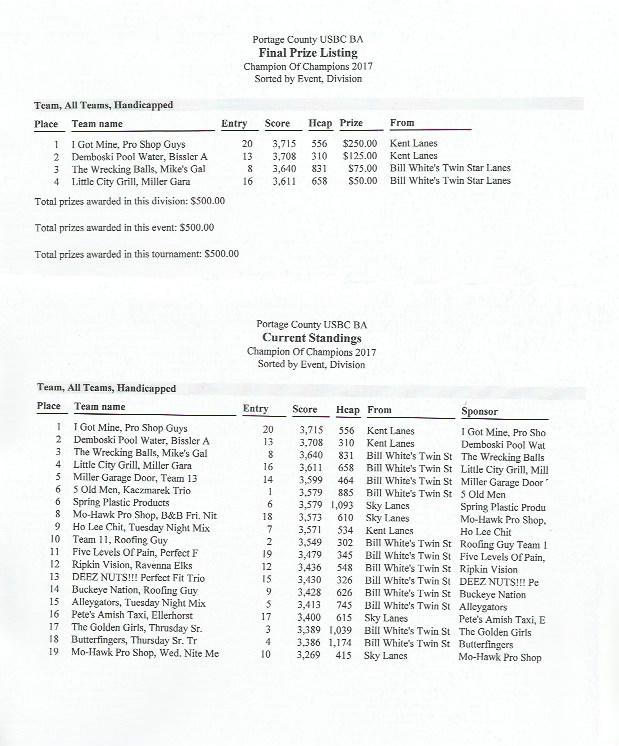 Merger news
At the annual USBC meeting, the delegates passed a resolution stating that all state and local associations must merge their BA, WBA, and YOUTH associations. Portage County is in the process of completing this task, and will have its first merger committee meeting at Twin Star (Spins) Lanes on June 7 at 5:30 to make plans for the new merged association. The completion of the merger is hoped to be finalized by the beginning of the next bowling season. New bylaws and a new Board of Directors must be in place by then.
Champion of Champions week one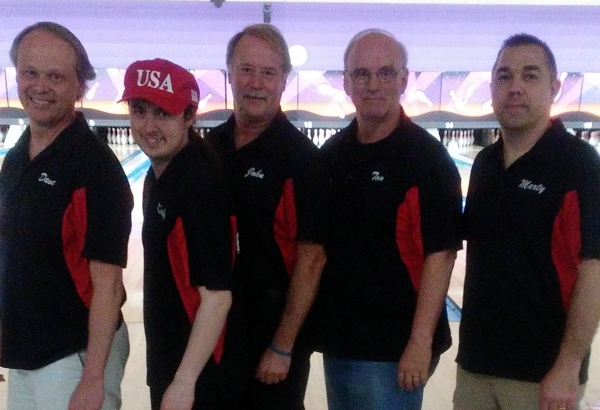 Demboski Pool Water from the Bissler League at Kent Lanes shot 3398 actual and 3708 handicap to take the lead in the second edition of the resurrected Champion of Champions tournament at Twin Star Lanes. Anchor man Kody Ornouski led all bowlers with 742 (229-267-246), followed by Marty Collyer 687, Dave Day 684, Tom Johnson 653, and John Demboski 632.
The Demboski team took over the top spot from the Wrecking Balls from the Mike's Gals team from Twin Star who totaled 3640 on the first day of bowling. They were led by Kelly Stebner's 666 (227, 195, 244) followed by Terry Adolph 602, Candi Kreierhoff 547 (223), Sherry Tauscher 527, and Kineen Rudibaugh 467. The Wrecking Balls are currently in second place.
Other good scores were Mike Walinski 699 (205,246, 248), Brian Glass 682, Denny Carden 658, Gary Helsel 653 on Saturday. On Sunday Andy Day shot 724 (235, 256, 233), Eugene Manhard with 705 (246, 222, 237), Thom Butcher 683, and Eugene Yeary 663.
Bowling concludes on Sunday, May 21 at 1:00. Entry forms are still available on this web site or at all Portage County bowling centers for qualified teams.
Champion of Champions
This tournament is open to all league champions and runner-up teams in sanctioned leagues in Portage County. The format is five man teams bowling three games and the highest handicap total wins. If the eligible team from your league has fewer than five bowlers, you may add members from the same league to fill out your team. See rules on the entry form.
There is a change in the scheduling of this tournament. The tournament was originally scheduled for May 13 and 14 at 1:00 at Twin Star. But a conflict has come up for the May 13 squad that limits us to 6 lanes. At this time the Saturday squad is completely filled. So we are opening another squad on Sunday, May 21 at 1:00.
Entry forms should be dropped off at Twin Star Lanes or mailed to Linda Shahan. Entry fee is only $25 per team ($5 per bowler) with money being added by the Portage County USBC BA to pay for championship jackets for the winners.
New entry forms will be available soon with the new squad listed.
Special general meeting set for Portage County USBC BA
Paul Jarosz announced that a special general meeting will be held on May 14 at 4:00 at Twin Star Lanes. The reason for the meeting is to elect representatives to represent our association at a special meeting of the committee organizing the merger of the Ohio State USBC BA, the Ohio State USBC WBA, and the Ohio State USBC YOUTH associations.
At the last national USBC convention a rule was approved that said all state and local associations have to be merged by the 2018-19 season. The state associations are in the process of merging and Portage County is also in the process of merging.
All bowlers sanctioned through Portage County USBC BA may attend this meeting and vote.
Meeting change
The meeting for the Portage County USBC BA Directors has been changed from Sky Lanes to Twin Star Lanes on Sunday, May 23 at 5:00. Any sanctioned bowler can attend these meetings as a spectator, but they may not vote at these meetings.

OOPS. Yet another change...The meeting has been changed to 7:00 to avoid interference with the tournament going on at Twin Star.
Senior Memorial Tournament results



Matt Tennant and Marvin Ortscheid

Thirty-eight senior bowlers showed up at Kent Lanes on March 26 for a chance to win a little money and have some fun with their contemporaries in the Senior Memorial Tournament. Bowlers competed in six age groups to win a free entry into the State Senior Tournament later this year. The division winners were

Marvin Ortscheid

(50-54),

Mike Hoffman

(55-59),

Robert Casto

(60-64),

Dwayne Jordan

(65-69), and

Fred Endres

(70 and up).

The division winners then competed for additional prizes in a two game shoot-out. They were joined by the two bowlers in the field with the highest scores that were not divisional winners,

George Herbert

and

Willie Harris

. After two games Marvin Ortscheid emerged the champion winning the grand prize, $375. Marvin shot 226 and 278 in the finals for a handicap total of 568.

Prize list



| | | | |
| --- | --- | --- | --- |
| Place | Name | Score | Prize |
| First | Marvin Ortscheid | 568 | $375 |
| Second | Dwayne Jordan | 541 | $200 |
| Third | George Herbert | 524 | $165 |
| Fourth | Willie Harris | 515 | $124 |
| Fifth | Mike Hoffman | 452 | $90 |
| Sixth | Robert Casto | 449 | $60 |
| Seventh | Fred Endres | 443 | $45 |
Bailey Wins it all

Matt Tennant presenting the grand prize to Joe Bailey.

Joe Bailey started out in 15th place at Sky Lanes, but gradually worked his way into second place after the semifinals. Then he beat two formidable opponents in the step-ladder finals to emerge the latest Masters champion and collect the $1400 first place prize.


In the semi-finals Bailey moved ahead of Tyler Meredith with 232-206-190-278-906, and Frank Testa managed to overcome a 50 pin deficit in the final game to land in the fourth and final position in the step-ladder. But then in his match with Meredith he lost 216-247. Then Meredith lost 287-198 to Bailey. In the final game between Bailey and Steve Waters, the match was in doubt until the final frame. Waters was behind by 17 sticks in the 7th frame but struck out through the 10th to finish with 221. Bailey needed the first strike in the 10th to seal the victory and he did manage to throw that strike and two more to end with 238. Waters finished second for the fourth time in this tournament.

Prizes:

| | | |
| --- | --- | --- |
| place | name | amount |
| 1 | Joe Bailey | $1,400 |
| 2 | Steve Waters | $700 |
| 3 | Tyler Meredith | $400 |
| 4 | Frank Testa | $275 |
| 5 | Paul Thorne | $155 |
| 6 | DJ Madden | $125 |
| 7 | Eric Randazzo | $115 |
| 8 | Jason Johnson | $110 |
| 9 | Mark Lobdell | $105 |
Round 3 Results
Steve Waters increased his lead over second place Tyler Meredith to 105 pins. Joe Bailey moved up to third followed by Frank Testa, DJ Madden, Paul Thorne, Eric Randazzo, Jason Johnson and Mark Lobdell. The top 9 bowl a four game semi-final to determine the top four who will bowl head to head in a step-ladder format. Brian Glass finished in 10th place and out of the money by 34 pins. Everybody in the top 9 will get a prize check.
Bailey had the best series in round 3...247-227-254-242-970. Other good scores: Jesse Smith 268, Jeff Tyson 266-253,Tyler Meredith 259, Dave Joseph 256, and Troy Damicone 250.
Masters...Round 2
The second round of four games is over at Kent Lanes. Steve Waters has taken the lead by 36 pins over Tyler Meredith. Frank Testa is now 130 pins behind the leader followed by DJ Madden, Eric Randazzo, Paul Thorne, Kevin Kachele, Joe Bailey, Brian Walker, and Taz Moore. Only nine will qualify for the semifinals, so the bowlers have four more games at Twin Star to improve their positions before the cut. Then the top nine will bowl four more games to determine who will be in the final four for the step-ladder finals.

Waters had the high score for round 2 by shooting 249-224-256-247-976 and leads the field with a 240 average for the eight games. Meredith rolled 264 and 267 and Eric Randazzo added a 258.


Steve Waters, leader after round 2
Masters Competition Underway
Thirty-eight of the best bowlers in the area showed up at Sky Lanes for the first four games of the Masters Tournament. Several past champions were recognized before the competition began, and about 35 spectators braved the weather to watch their favorite bowlers.
The leader after day one was Tyler Meredith who leads by 31 pins over Steve Water. Those two finished one-two in last year's battle. Rounding out the top 10 were Frank Testa, Jason Sollars, DJ Madden, Adam Carney, Bill Bruce, Paul Thorne, Taz Moore, and Eric Randazzo. The tournament moves to Kent Lanes on Sunday at 8:30 am for four more games, then to Twin Star for the last four games of qualifying bowling. The field is then cut to nine bowlers who bowl another four games to determine final standings for places 5-9, and the order of bowling for the four man stepladder finals.
Meredith shot a tournament high 218-248-239-277-982. Other good scores were Joe Bailey 279, Adam Carney 259, and Eric Randazzo 257.
Some pictures:
| | | |
| --- | --- | --- |
| Tyler Meredith, first day leader | Bill Bruce and Mark Lobdell, drove in from Michigan | The tournament crew |
Senior Memorial Change
The Senior Memorial Tournament scheduled for March 26 was originally scheduled for Sky Lanes. However, due to a scheduling conflict recently discovered by Sky Lanes Manager, Aaron King, the tournament has been rescheduled for Kent Lanes on that same date. Flyers are being prepared with the new location, and will be available on this web site soon.
Official Results for 2017 Portage County Tournament
Money, jackets, and trophies will be presented at the Annual Meeting of the Portage County USBC BA at Twin Star Lanes on February 18 at 1:00. Tournament Director, Matt Tennant, has announced the winners and their pay-outs:
Handicap Team
Scratch Team
Team
Amount
Team
Amount
1
Kent Lanes
$1,000
1
Mo-Hawk Pro Shop
xxx
2
Mo-Hawk Pro Shop
$585
2
Burkey