County Tournament information available
Linda Shahan has set the dates and times for the Annual County Tournament at Sky Lanes. The entry form is available at all Portage County bowling centers and through this web site by clicking on the Tournaments link on the left. This year the tournament will be held during the last week of February and the first week of March.
The Masters tournament will be held this year on April 17-18. Matt Tennant will run that tournament as in the past and the finals will be at Sky Lanes this year.
Special Presentation
On November 30 in the Thursday Senior Trio League at Spins Bowl Kent

Fred Endres

shot his first ever 800 series. Fred put together games of 264, 257, and 279 to total exactly 800. His teammate in the league happens to be

Linda Shahan

, the manager of the Portage County USBC BA. She ordered his ring and surprised him in his Monday night league where he bowls with his son by presenting his ring in front of that league.

Fred is 74 years old with a 212 book average from last year and won the 70 and over division of the Senior Memorial tournament in 2016.


Junior-Senior Trio Tournament results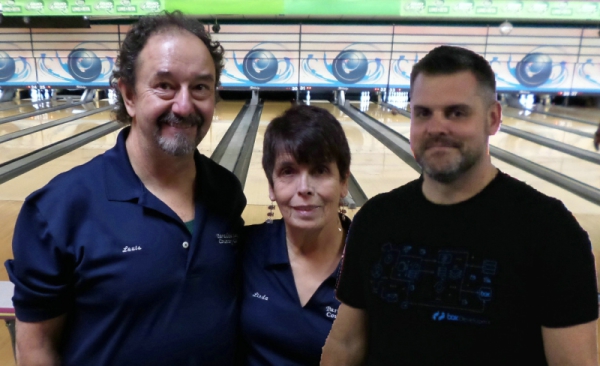 Louis Bogavich

,

Linda Shanan

, and

Nathan Shahan

...winners of the 2017 Portage County USBC BA Junior-Senior Trio Tournament.

Linda Shahan, Portage County's tournament director, recruited Louis Bogavich and her son, Nathan Shahan, to win one of Portage County's favorite tournaments, the Junior-Senior Trio Tournament held at Spins Bowl Kent on December 3. The three shared a first place prize of $690.

The format for this tournament is three games of regular bowling followed by six Baker games. Teams moved after each game. After the three games of regular bowling Shahan's team was ahead of the team of

Bryan Berry, Rich Daniel,

and

Eric Randazzo

by 46 pins. Then after the Baker games Shahan's team was still ahead by 20 sticks. Berry's team retained second place and shared $390.

Junior Barker, Howie Moore

and

Taz Moore

finished third ($270);

Larry Schwalback, Bill Flachbart,

and

Joey Ault

took fourth ($240);

Elizabeth Persuhn, Scott Sano,

and

Teri Haefke

landed in fifth ($180); and

John Kertis, Chris Osborne,

and

Rob Sample

took the sixth and final paid spot ($150).

Good scores:
Taz Moore 249-268-300-817, Rich Daniel 289-735, Bryan Berry 288-769, Nate Shahan 288-749, Larry Schwalbach 289-708,

Scott Sano

279-715,

Denny Carden

258-255-718, Howie Moore 257-254-714,

Shawn Bolyard

259-720,

Ron Elwood

253,

Chris Osborne

709,

Brian Walleen

266,

Ray Cook

268, and

John Kertis

254.

The best Baker game was 279 by Schwalback-Flachbart-Ault, who also shot a 268.

Twenty-four teams bowled in the tournament this year, meaning that 72 bowlers showed up for some fun on a Sunday afternoon.
Merger News
The Portage County USBC BA, the Portage County USBC WBA, and the Portage County USBC YOUTH are merging into one association beginning next bowling season. This is happening because at the 2015 USBC Convention, the representatives from all local and state associations that were in attendance voted that all state and local associations would be merged by the beginning of the 2018 season. A Merger Committee was elected at a meeting several months ago to develop the set of by-laws and policies to be used by the new association.
The next step is to elect a board of directors to run the new association. Any adult member of current associations, not just current board members, can run for any of the positions. There are also youth positions for youth bowlers 14 and up. A nomination committee chaired by Howard Fincham has developed an application for the available positions, and is planning the elections. You can get an application at any of the three Portage County bowling centers. You can then drop off your application at your bowling center in the box at the control counter. All applications will be collected by Fincham and reviewed by the nomination committee.
You can also mail your application directly to Fincham at 629 Woodside Dr., Kent, Ohio 44240, or you can scan and send your application to bub_29@hotmail.com .
You can also get an application by clicking here.

Handicap Singles Results
The 2017 edition of the Portage County USBC BA Handicap Singles tournament was contested at Spins Bowl Kent (formerly Bill White's Twin Star Lanes) on November 12. The tournament featured 40 bowlers.



Adriana French

wasn't even going to bowl in the tournament, but went home the winner after her mother paid for her entry. French finished the five game qualifying round -- featuring a 249 and a 222 -- 86 pins ahead of the second seed,

Jeff Konkle

.

In the four person step-ladder finals

David Caipen

and

Howard Fincham

played each other after they tied for the third position. Fincham bested Caipen by tossing 231 (200 actual) to Caipen's 218 (194 actual).

Fincham then bowled 253 (222) against Konkle's 235 (192) to advance to the finals against French.

In the finals French scored 265 (179) to beat Fincham's 244 (213) to win the $530 first place check. Fincham settled for $270, Konkle earned $200, and Caipen received $125.

Three bowlers who did not make the play-off but did finish in the money were

Fred Endres

($100),

Mark Zerucha

($65), and

Shawn Bolyard

($56).

Nice tournament scores:
Jeff Konkle 289, Fred Endres 269-267, Shawn Bolyard 268, Fred Endres 259,

Dale Holgate

259,

Bryan Berry

256,

Jon Endres

255, and

Nick Knapp

252.

Shawn Bolyard had the high actual five game series 1235. Fincham, Caipen, Bolyard, Dale Holgate, and

Donald Bailey

all scored over 700 for the first three games in the qualifying round.


Handicap Doubles Results



Dan Martin

and

Mark Zerucha

topped all teams at the 2017 Portage County USBC BA Handicap Doubles Tournament at Kent Lanes on November 4. Mark's 245-265 in the two game finals allowed them to cruise into the top spot by an 81 pin margin over the top qualifying team of

Lloyd Ables

and

Josh Wilson

. Martin and Zerucha shared a nice first place prize of $800. Second place finishers Ables and Wilson split $400.

The tournament featured a 26 teams who bowled 4 games across 8 lanes. The top four teams then played two more games to determine the final prize order. Finishing third was the duo of

Jeff Kelly

and

Russ Renkel

followed by the team of

Kyle Koeppl

and

Thomas Humphries

. Also winning a paycheck for finishing in the fifth spot was the team of

Jessica Potteiger

and

Jolson French

.

Some of the excellent scores in the qualifying round were (in no particular order):

Ryan Roderick

254,

Brandon Manhard

278,

Lloyd Ables

279-269,

Logan Manhard

266,

Josh Wilson

278,

Kyle Koeppl

279,

Jeff Kelly

278,

Mark Zerucha

258-256,

Dan Schueller

257-257,

Rich Moore

268,

Pat Adolph

279-257-257, and

Jessica Potteiger

259. The best series for the first three games was 793 by both

Lloyd Ables

and

Pat Adolph

. The best four game series was 1025 by

Pat Adolph

.

In the four game finals, besides Zerucha's fine games there were

Jeff Kelley

's 265 and

Lloyd Ables

' 267.



The Portage County Handicap Singles Tournament is next Sunday, November 12 at 1:00 at Spins Bowl Kent (formerly Bill White's Twin Star Lanes).
Handicap Doubles Tournament Coming Up
The Portage County Handicap Doubles Tournament will be contested at Kent Lanes on Saturday, Nov 4 at Kent Lanes. You can get an entry form here.
By-Laws Approved for Merges
Association
members from the Portage County USBC BA, the Portage County USBC WBA and the Portage County YOUTH met on Sunday, October 15 to consider the By-Laws prepared by the Merger Committee. After some amendments were approved, the By-laws were approved unanimously by the members in attendance. You can read the By-laws by clicking
here
.
SPECIAL ALL USBC Portage County Bowler Association Meeting Announcement
To all Portage County BA Members, Portage County WBA Members, and Portage County Youth Association Members and Parents
There will be a special meeting
Sunday, October 15, 2017
at the Ravenna Library at
2:00 p.m.
The meeting will provide details and updates on the association merger process.
There will also be information provided on the election of new officers for the association and finally a vote to accept the new by-laws for the merged associations.
This is your chance to ask questions about the merger process and how the process effects your association.
Please mark your calendar and plan to attend this informative meeting.
Paul Jarosz
Merger Committee Chair