Annual County Tournament to Get Underway
The 70th Annual Portage County Tournament begins Saturday, January 20 and concludes on Sunday January 29 at Twin Star Lanes. You may bowl in the team, doubles, and singles events. You may also participate in All-Events. Entry forms are available in any Portage County bowling center or you can download one from this web site on the Tournaments page.
You can also fill out an entry form online at the Tournaments page and email it to the tournament director, Matt Tennant. If you have a paypal account you can pay the entry fees online as well.
Please note only 14 lanes will be available for the 9:00 am shifts on both Saturday shifts. In addition, only 20 lanes are available Saturday, January 21 at 1:30. So if you want to bowl one of those squads, make sure your form is in early.
Junior Senior Trio Tournament Complete
Handicap Singles Tournament Results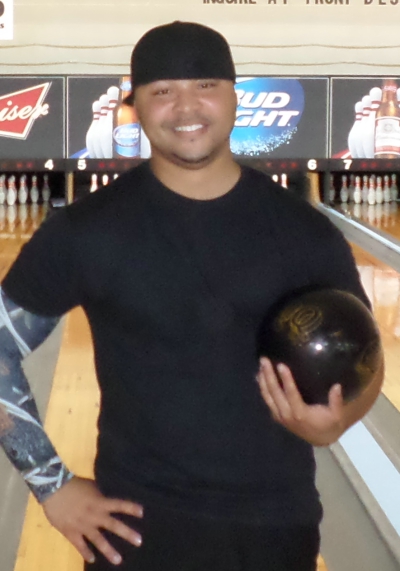 Bryan Berry finished second over-all in the five game qualifying round, then squeezed past Troy Workman by just two pins to meet the first qualifier, Erik Juskiw. In the final game Bryan chopped the 6-10 in the fifth frame and trailed until the eighth frame when lefty Erik whiffed the seven pin (after picking up four of them in a row). Both bowlers marked out but Bryan finished six pins ahead of Erik to win the championship.
Howard Fincham also made the finals but was knocked off the stepladder in the first round by Workman who shot an actual 256. Fincham took home a check for $75 for fourth place, Workman won $100 for third, Juskiw was paid $166, and Berry took home the big money, $320.
Seventeen bowlers showed up on November 12 at Sky Lanes for the Handicap Singles Tournament, bowling five games each in the qualifying round. The highest score was 279 tossed by Howard Fincham and Lloyd Ables, followed by 264 by Erik Juzkiw and Bryan Berry, then 258 by Troy Workman. The highest five-game actual series was the 1136 shot by Juzkiw. Robby Roberts missed the cut by just three pins.


Handicap Doubles Tournament Decided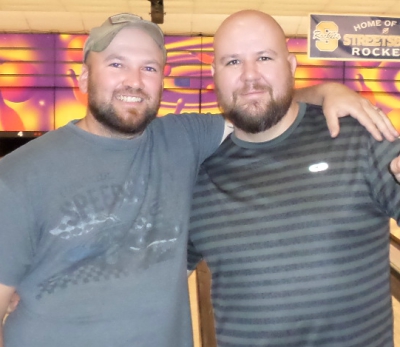 Greg Brandner and Nick Knapp teamed up on Saturday, November 6 to win the Handicap Doubles Tournament at Kent Lanes. The tournament, sponsored by Portage County USBC BA attracted twenty-two teams from Portage County and surrounding counties.
The format of the tournament featured teams bowling four games across four pairs of lanes to determine four finalists. Then final the four teams bowled two more games to determine the prize list.
Nick bowled
two
300 games in the tournament. He bowled the first one during the four game qualifying round. Then in the finals the team bowled poorly in the first game, but changed equipment for the second game and he bowled another 300 game.
Details to follow.
The Portage County USBC BA Handicap Singles Tournament is this Saturday, November 12 at Sky Lanes. You can get an entry form by following the link to the tournament page.

National Award for Trio



Keith Jackson, Erin Jackson, Bill White Sr., and Teri Plaso

Last season on December 12 in the Perfect Fit Pro Shop Trio League three bowlers hit a it big, tossing a national high score for a mixed trio team composed of one man and two women. USBC recognizes exceptional accomplishments for league bowlers with special awards. The three bowlers were presented with plaques by Portage County USBC BA President Paul Jarosz at Twin Star Lanes on Thursday, October 27 as league bowlers and USBC officials looked on. Keith Jackson (256), Erin Jackson (279), and Terry Plaso (300) teamed up to fire a national high score of 835.

Other interested parties at the presentation were Bill White Sr., Sue Jenior of the Record Courier, Ohio State BA representative Michael Phillips, Association Manager Linda Shahan, and Portage County USBC BA Directors Carol Boyle, Jim Boyle, Rick Ewell, Gary Helsel, Dale Holgate, Keith Lang, and Russ Renkel.

You can see the record scores on Bowl.com by clicking here.

If you search through the records you will find that another Twin Star trio team finished fourth in the category of team game for two men and one woman. That team was Lisa Osborne, Matt Chapman, and Paul Schultz with a game or 811.


Hall of Fame
The Portage County Bowling Hall of Fame had its induction ceremony on October 22 at the Kent Elks. Thom Butcher, Bill Flachbart, Gary Popson and Ched Reber were inducted into the Hall and Hermann Pickle Farm was selected to receive the Pop Meyers award for outstanding support of bowling in Portage County. Go to the Hall of Fame page for more informantion.
Corrections
The entry forms found on the Tournaments page had some errors if downloaded before Oct 25. The errors were on the rules page and involved the finals of the tournaments. The procedures on the forms now available are correct.
Hall of Fame news
The Portage County Bowling Associations will induct new members on October 22 at the Kent Elks. Doors open at noon for a cash bar. Luncheon buffet will be available at 1:00, followed by the ceremony. Tickets for the event are $20 and are available at any Portage County bowling center.
Inductees are
Thom Butcher, Bill Flachbart, Gary Popson
, and
Ched Reber
.
Herman's Pickle Farm
is being given the Pop Meyers award.




Welcome to the new Portage County bowling web site. On this page you will find news about the associations, tournaments, directors, and Hall of Fame.


ABC (American Bowling Congress), WIBC (Women's International Bowling Congress), the YABA (Young American Bowling Alliance), and USA Bowling merged in 2005 to form the USBC (United States Bowling Congress). Although the national associations merged operations, they allowed local and state associations to remain separated into BA, WBA, and YOUTH associations. WBA affiliates serve only the needs of female bowlers, BA can serve all adults, and YOUTH serve only non-adult bowlers.
This year at the national convention, the representatives voted that all locals that are not already merged must do so by the 2018 season. State associations must merge as well.
Dues
Dues for the National USBC are $10 this year, dues for Ohio State USBC BA are $0, dues for Ohio State USBC WBA are $3, dues for Portage County USBC BA are $6, and dues for Portage County USBC WBA are $6. When you pay your dues for either of the local adult associations you must pay dues for the national and state associations as well. Thus your dues when joining PC USBC BA are a total of $16, and the dues when joining PC USBC WBA are $19.
Reasons to Join USBC
USBC is not just the group that sends rings for 300's and 800's. The USBC works behind the scenes to promote the game of bowling by keeping bowling on television, sponsoring important major tournaments for the pros and the amateurs alike, settling interpretations of the rules, maintaining a web site with all manner of information including averages and records for all sanctioned bowlers, supporting the thousands of local associations, and providing peace of mind to bowling leagues with regard to their finances.
The local associations provide the manpower for the national association. We keep track of all the bowlers and their averages, deal with all the paperwork, provide awards for bowlers, raise money for charitable causes, run a county championship tournament, as well as several additional tournaments throughout the year, maintain a Hall of Fame to honor great bowlers in our county, settle disputes about bowling and monetary matters, and inspect the lanes each year to keep the game fair and fun.
The Portage County Hall of Fame is populated by both male and female bowlers who have distinguished themselves through their bowling accomplishments or through their work in serving the bowlers Portage County. In addition to individual bowlers, there is a category called Pop Meyers where league sponsors are honored.
To see the names of the honorees, enter Twin Star Lanes at the front door and look to your right. There you will see a huge wooden board with plaques with the names of members of the Hall of Fame.
You can nominate bowlers, male or female, by filling out the application form found at the desk of any of the three Portage County bowling centers. The Hall of Fame committee will consider all applicants and will select entrants every three years. Electees will be presented with an award at the induction ceremony.
Portage County USBC BA and Portage County USBC WBA host several tournaments throughout the bowling season. The Tournaments page has been set up so that you can see when and where these tournaments will be held. Dates and locations will be displayed as they become available. The State associations also hold tournaments, and that information will be displayed there as well. Where possible, entry forms will be downloadable as well.